The outbreak of coronavirus (COVID-19) presents new challenges in the workplace as you strive to keep your business running and support the health and well-being of your workforce. With the rules rapidly changing and everyone working to prevent the spread of illness, know that J. J. Keller is here to help. Our safety and regulatory experts are closely monitoring every change and are providing free and paid resources to help you through this difficult time.
J. J. Keller President & CEO Rustin Keller wants you to know we are prepared to provide our products & services despite challenges that may arise. Read his letter >
OSHA Vaccination/Testing Emergency Temporary Standard (ETS) News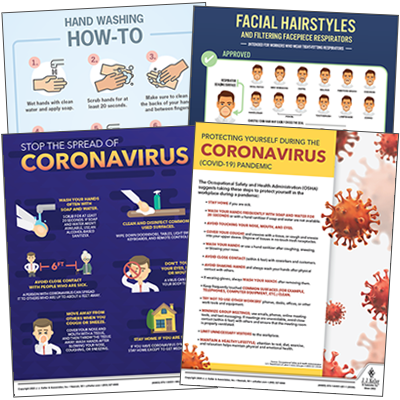 Free Awareness Posters
These are full-color posters that each address a key area of awareness in preventing the spread of coronavirus. The poster PDFs are sized to print on 8-1/2" x 11" paper.
Stop The Spread of Coronavirus (COVID 19) Safety Poster
Protecting Yourself During The Coronavirus (COVID 19) Pandemic OSHA Safety Poster
Hand Washing How To Safety Poster
Facial Hairstyles and Filtering Facepiece Respirators Safety Poster
Download Free Posters
Letter From
J. J. Keller

President & CEO Rustin Keller

Our customers look to J. J. Keller to help keep their employees safe and their businesses compliant. We understand that especially during times such as the current COVID-19 pandemic, it is important that our customers and others know we are prepared to reliably provide products and services despite challenges that may arise. I would like to personally take this opportunity to share the following:

Prepared with a Business Continuity Plan

J. J. Keller has an extensive Business Continuity Plan, under the direction of our Executive Leadership Team, which ensures our ability to continue serving customers in numerous scenarios. This includes a specific pandemic illness plan for situations such as the current COVID-19 pandemic, with defined action plans for all alert levels.

Availability of Our Experts, Products & Services

We are actively informing and protecting our associates to prevent illness at our facilities, including emphasizing healthy habits, using remote working options, social distancing such as web-based meetings, and following CDC guidelines. All of these actions are in line with J. J. Keller's certification to stringent ISO 14001 (Environmental Management), ISO 27001 (Information Security Management) and ISO 45001 (Occupational Health & Safety) standards, which provide resiliency to serve our customers.

With a large remote workforce and all of our associates, except for those in manufacturing and shipping, able to work remotely, we have the ability to continue supporting your drivers, learners and other employees, and we are here to answer the phone if they have questions.

The overall effect of COVID-19 on our product supply has been minimal. We differ from many other businesses because 90% of our products and services are from here in Neenah, Wisconsin, and of the products we source.

Helping Companies Respond to COVID-19

In summary, our preparedness at J. J. Keller, which has allowed us to continue serving our customers well throughout the pandemic exemplifies best practices, and our own experts are helping companies address safety for their employees. We have many free resources on this page, as well as products and services, to help you ensure safety in your workplace, such as OSHA compliance and employee rights during a epidemic.

Thank you for your continued trust in J. J. Keller,

Rustin Keller
President & CEO