California approves heavy duty vehicle smog check program
Posted December 17, 2021
The California Air Resources Board (CARB) recently approved a 'smog check' regulation for medium- and heavy-duty trucks and buses, those with a gross vehicle weight rating (GVWR) greater than 14,000 pounds. CARB estimates approximately one million vehicles, operating in the state, will be affected by the new regulation. Once fully in place, the regulation is expected to reduce NOx and fine particle diesel pollution by as much as 82 tons per day.
Initially the program includes emission control system inspections twice-a-year, with a phased-in increase to four inspections per year for trucks with on-board diagnostics. Like the existing passenger cars and light-duty truck smog check program, vehicle registration in the state will require passing the inspections. However, different from the smaller vehicle program, there is no requirement to go to a smog check station. Using onboard diagnostics (OBD) owners will be able to complete the required test and send the data without going to a testing location. Older heavy-duty vehicles, without OBD will continue the current opacity testing requirements with an added visual testing component, twice each year.
Compliance timeline:
January – June 2023: Phase 1 – Initial compliance certification
Outstanding "high emitter" citations must be resolved
Vehicles registered into program database
Annual program fees begin
June – December 2023: Phase 2 – Enforcement begins
Vehicle registration denied for CA-registered vehicles without certificate
Enforcement when operating in California without certificate
January 2024 and beyond: Phase 3 – Periodic testing
Owners must meet periodic testing requirements
Outstanding "high emitter" citations must be resolved
Continued payment of program annual fee
This article was written by Laura Verity of J. J. Keller & Associates, Inc.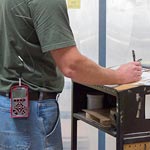 Looking for more on workplace safety?
Get the information and products you need to stay on top of industry changes and comply with regs.