Facility security vital over Christmas, New Year's
Posted December 19, 2018
Holidays are a time to spend with family and friends and to reflect on all the good things we have in life.
Unfortunately, they are also prime time for criminals to wreak havoc on motor carrier lots. Studies show that cargo theft is greatest during holidays, typically when facilities are closed more days and are less bustling than at other times during the year.
Before employees take off for Christmas and New Year's, take the following steps to help reduce security risks:
Avoid plowing huge snowbanks so that someone can easily scale a fence or wall;
Shave or level snowbanks and trim shrubs periodically to keep criminals from avoiding detection from lights or security guards;
Knock snow off lights, security cameras, prohibitive signs at gates or entrances, gate components, or other equipment that may be affected;
Check to make sure the facility's doors lock and properly seal in the cold, as a bowing door or warped frame could allow a criminal access with a crowbar or another tool;
Adjust the timer on your lot lights if the units are not dusk-to-dawn activated; and
Have a policy that prohibits taking loaded trailers home or dropping them at unsecured locations when off duty.
---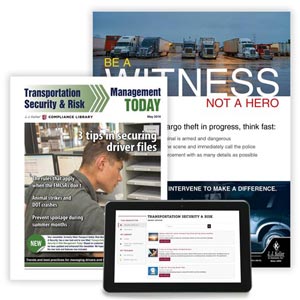 J. J. Keller's Transport Safety Risk Management & Security Newsletter keeps you up-to-date on the latest security and motor carrier safety risk management.
---
J. J. Keller's FREE Transportation SafetyClicks™ email newsletter brings quick-read safety and compliance news right to your email box.