California adopts statewide system for reporting air pollution emissions data
Posted December 28, 2018
The California Air Resources Board (CARB) has adopted a regulation establishing a statewide system for mandatory annual emissions reporting for stationary sources. CARB says the new system harmonizes statewide data submission requirements, bringing consistency in reporting deadlines and frequency of reporting, and making the data more easily accessible by the public.
According to CARB, more data from more facilities will be collected to create a more complete inventory of air pollution emissions data from stationary sources, including large factories and refineries, along with smaller emitters that pose a potential toxics emissions risk, such as gas stations, metal plating facilities, dry cleaners, and auto body shops.
California's criteria air pollutant and toxics emissions data currently are collected separately by the 35 independent local air districts across the state. The districts are diverse in size, population, geography, and the types and numbers of emissions sources. This diversity has led to variations in how — and how often — emissions data is collected, completeness of data collection, and how it is used and shared.
---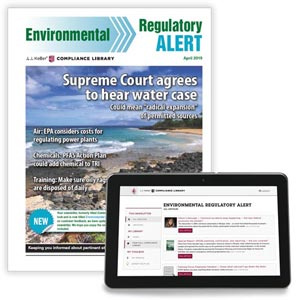 J. J. Keller's Environmental Alert: The Compliance Guide for Safety Professionals helps you stay on top of the latest environmental enforcement issues.
---
J. J. Keller's FREE Workplace SafetyClicks™ email newsletter brings quick-read workplace safety and compliance news right to your email box.