How to handle fed med card recordkeeping during the National Registry outage
Posted December 20, 2017
The Federal Motor Carrier Safety Administration (FMCSA) posted a message to address recent problems with its National Registry of Certified Medical Examiners (NRCME) website.
The message stated the web portal is currently unavailable, and the agency is working to restore services. FMCSA is currently working to develop a manual process for access to the National Registry.
Following are instructions provided by FMCSA to drivers, motor carriers, and medical examiners (MEs) during the outage:
Commercial motor vehicle (CMV) drivers
Drivers are instructed to contact their healthcare professional directly to verify if he or she is certified and listed on the NRCME. Drivers may confirm the ME's status through the certificate provided by FMCSA to each certified ME on the National Registry.
Motor carriers
FMCSA suggests motor carriers retain medical examiner's certificates (MECs) that need to be verified until the website is once again operational. Motor carriers are required to verify that the ME on the document appears on the National Registry and was authorized to perform the exam.
Certified Medical Examiners
Certified Medical Examiners may continue to conduct physical qualification examinations of CMV drivers and issue paper Medical Examiner's Certificate, Form MCSA-5876, to qualified drivers. Medical examiners should segregate all examinations completed during the outage and be prepared to upload them to the National Registry system when it is back online with no penalties. All certified MEs will be notified by FMCSA once the system is available.
---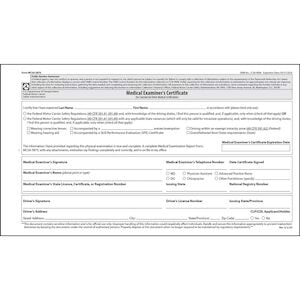 J. J. Keller's medical examination certificates and forms help you comply with 49 CFR §391.43 DOT medical card requirements.
---
J. J. Keller's FREE Transportation SafetyClicks™ email newsletter brings quick-read safety and compliance news right to your email box.