FMCSA offers search tool while National Registry is being fixed
Posted December 29, 2017
The National Registry of Certified Medical Examiners (NRCME) website is currently unavailable, leaving drivers and motor carriers wondering how they can verify a Medical Examiner's (ME's) status.
As the Federal Motor Carrier Safety Administration (FMCSA) works to restore services, it has created a new search tool to assist stakeholders.
Instructions to drivers and motor carriers
The search tool requires users to enter the ME's National Registry number. Certified MEs receive a National Registry number when authorized to conduct the commercial motor vehicle (CMV) driver examination.
Drivers and employers looking for a certified ME to perform a driver physical must contact the healthcare professional directly and ask for the registry number to enter into the tool.
For completed exams, employers may obtain the ME's National Registry number from the Medical Examiner's Certificate, Form MCSA-5876, that is submitted by the driver.
Instructions to MEs
Certified MEs are able to continue conducting physical qualification examinations of CMV drivers and issuing paper Medical Examiner's Certificates, Form MCSA-5876, to qualified drivers. MEs should segregate all examinations completed during the outage and be prepared to upload them to the National Registry system, with no penalties, when it is back online. All certified MEs will be notified by FMCSA once the system is available.
---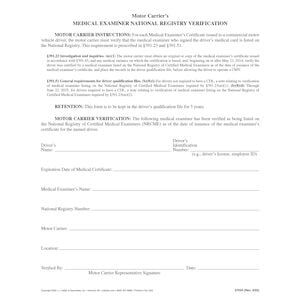 J. J. Keller's Medical Examiner's National Registry Verification helps you comply with DOT's 49 CFR §391.23 and §391.51.
---
J. J. Keller's FREE Transportation SafetyClicks™ email newsletter brings quick-read safety and compliance news right to your email box.