PHMSA releases safety alert for hoverboards
Posted December 30, 2015
On December 24, the Department of Transportation's Pipeline and Hazardous Materials Safety Administration (PHMSA) issued a safety alert that identifies safety concerns with the transport of hoverboards containing lithium batteries. The agency issued the alert that includes shipping guidance after PHMSA investigators intercepted 32 cargo containers filled with hoverboards containing lithium batteries that were improperly prepared for shipment of a hazardous material.
Hoverboards are battery-powered vehicles typically used for recreational purposes, marketed under a variety of different names including balance boards, gravity boards, or self-balancing devices, and are powered by lithium batteries. Lithium batteries are a powerful, lightweight and rechargeable source of energy that is generally safe when manufactured and handled properly. When manufacturers or shippers ignore certain precautions, however, the batteries can spontaneously generate increasingly intense heat and catch fire or explode.
PHMSA's investigation of the intercepted cargo containers determined that more than 80 percent of the shippers were unable to produce the valid test reports to prove that the lithium batteries have been properly manufactured and packaged to maintain integrity during transport.
"It's critical that lithium batteries are packaged and transported according to the correct specifications because, under certain conditions, they can generate heat, catch on fire and explode during transportation," said PHMSA Administrator Marie Therese Dominguez. "PHMSA is conducting a complete and through investigation to ensure that hoverboards containing lithium batteries are transported in accordance with Federal hazardous materials regulations."
Generally, cargo shipments of hoverboards containing lithium batteries should be identified on shipping papers, tested, and prepared for shipment as required based on the mode of transportation. Failure to comply with these requirements can carry large civil penalties and potential criminal liability.
Separate from shipping matters, consumers should also be aware of safety considerations when operating or traveling with these devices. The Consumer Products Safety Commission (CPSC) issued guidance recommending consumers not charge hoverboards overnight or while unattended. They also recommend consumers look for a certification label from a national safety testing laboratory on the product before purchase. In addition to the recommendations issued by the CPSC, DOT advises passengers who wish to travel with hoverboards to check the airline website before travelling because many airlines have banned these items in both carry-on and checked baggage.
---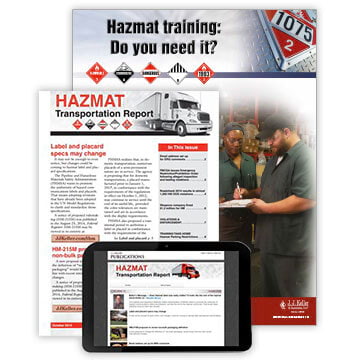 J. J. Keller's HAZMAT Transportation Report helps you track ever-changing Hazmat Regulations affecting Hazmat shippers, handlers, and transporters.
---
J. J. Keller's FREE Transportation SafetyClicks™ email newsletter brings quick-read safety and compliance news right to your email box.
Sign up to receive Transportation SafetyClicks™.