OSHA emphasizes seasonal worker safety during upcoming holidays
Posted November 24, 2020
In the past, OSHA has encouraged retail employers to implement crowd management plans to help protect employees during major sales events. This year, there's a new worry. As the holiday shopping season approaches, OSHA reminds employers to ensure seasonal workers are trained to recognize and prevent job hazards, and to incorporate safe work practices to prevent exposure to COVID-19.
OSHA notes that with added seasonal hiring, employees unfamiliar with working in seasonal positions and employers unaccustomed to hiring part-time and/or seasonal employees may not be fully aware of the rules that regulate such work.
"Throughout the holiday season, all employees, including seasonal workers, should be trained not only on how to perform their jobs safely, but also on how to stay safe from the coronavirus," said Principal Deputy Assistant Secretary of Labor for Occupational Safety and Health Loren Sweatt.
This article was written by Rachel Krubsack of J. J. Keller & Associates, Inc.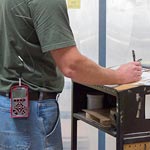 Looking for more on workplace safety?
Get the information and products you need to stay on top of industry changes and comply with regs.