My state minimum wage will go up in 2021. Do I need a new poster?
Posted November 23, 2020
The minimum wage will increase in 20 states on January 1, but not every rate increase brings a posting change.
Some state laws call for regular stepped increases in the minimum wage. When the new rate is already listed on the poster, a new one isn't needed.
Other wage and hour changes
There are times when a different change to a state wage and hour law drives a minimum wage poster update. That's the case this year in New Jersey, where a new rate for agricultural employees is bringing a mandatory posting change.
State minimum wage poster updates
In 2021, an updated minimum wage poster will be needed in:
Alaska
Arizona
California
Colorado
Florida
Maine
Minnesota
Missouri
New Jersey
New Mexico
New York
Ohio
Vermont
Montana, South Dakota, and Washington will also update their posters. These states do not require businesses to post a minimum wage poster, but they do issue posters and it's a good idea to display the latest information.
State minimum wage increases
Here's a look at the new state minimum wage rates for 2021:

State Minimum Wage and Poster Updates: January 2021

State

New Rate

Tipped Rate

Alaska

$10.34

N/A

Arizona

$12.15

$9.15

California*

$13/$14

N/A

Colorado

$12.32

$9.30

Florida

$8.65

$5.63

Illinois

$11.00

$6.60

Maine

$12.15

$6.08

Maryland

$11.75

$3.63

Massachusetts

$13.50

$5.55

Michigan

$9.87

$3.75

Minnesota*

$10.08/$8.21

N/A

Missouri

$10.30

$5.15

Montana***

$8.75/$4

N/A

New Jersey***

$12/$11.10/$10.44

$4.13

New Mexico

$10.50

$2.55

New York**

$14/$12.50

Varies by industry

Ohio

$8.80

$4.40

South Dakota

$9.45

$4.725

Vermont

$11.75

$5.88

Washington***

$13.69/$11.64

N/A

*Rate varies based on business size.
**Rate varies based on location. Effective December 31, 2020.
*** Certain workers may be paid a lower rate.
This article was written by Terri Dougherty of J. J. Keller & Associates, Inc.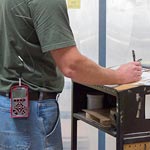 Looking for more on workplace safety?
Get the information and products you need to stay on top of industry changes and comply with regs.