A peek at what's on deck for regulatory changes
Posted November 25, 2019
It's that time of year again. The time when everyone can let out a collective sigh of relief and excitement as the U.S. Government regulatory bodies have published their fall unified agenda. Yes, it is a time of wonder. If you wonder what the government has planned regarding employment laws, read on.
Joint employment: The Equal Employment Opportunity Commission (EEOC), National Labor Relations Board (NLRB), and the Department of Labor (DOL) all plan to issue regulations governing joint employment. The changes to the Fair Labor Standards Act are designed to provide clarity and thereby enhance compliance, including adopting a four-part balancing test to determine if two or more companies are joint employers. The DOL believes the proposed changes will help to promote greater uniformity among court decisions nationwide. A final rule is scheduled for December.
Regular rate: A revision to the Fair Labor Standards Act seeks to provide additional guidance on whether more modern forms of compensation and benefits need to be included in the regular rate and overtime calculations. This would allow employers more flexibility regarding, for example, employee discounts, wellness benefits, and tuition reimbursements. A final rule is scheduled for December.
FMLA: The WHD plans to publish a Request for Information (RFI) on the FMLA yet this month. This RFI, is looking for comments on ways to improve the FMLA to help both employees and employers. The WHD has also investigated revising the FMLA forms. Although this RFI could lead to proposed revisions to the FMLA regulations sometime next year, a final rule could depend upon the Presidential election.
Tip credit: The DOL wants to align its regulations with the recent statutory changes. The agency is also proposing to revise the existing "dual jobs" regulation to provide greater clarity regarding an employer's ability to take a tip credit to satisfy minimum wage obligations for time spent by a tipped employee performing duties that are related to the employee's tipped occupation. Don't get too excited about this one, the next step is that the comment period will end December 9. This does mean, however, that you still have time to voice your input on this.
Fluctuating workweek: Currently, the use of the fluctuating workweek method is not available to employers who compensate their employees with bonuses or other incentive-based pay. The DOL proposes to revise these regulations to grant employers greater flexibility to provide additional forms of compensation to employees whose hours vary from week to week. The comment period for this is ending on December 5.
Wellness programs: The EEOC plans to revise the regulations to implement the equal employment provisions of the Americans with Disabilities Act (ADA) to address the interaction between title I of the ADA and wellness programs. This issue has been in the hopper for some years, and maybe this time a final rule is in the future. Don't hold your breath too long, however, as a proposed rule is scheduled for January.
There you have it. Time to deck the halls with vast pages from the unified agenda to the merriment of all. No better way to bring that warm, welcoming feeling to you and yours.
This article was written by Darlene M. Clabault, SHRM-CP, PHR, CLMS, of J. J. Keller & Associates, Inc.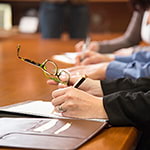 Looking for more on HR compliance?
Get the information and products you need to stay on top of industry changes and comply with regs.