EPA updates information collection policies
Posted November 29, 2018
EPA's Office of Water and Office of Enforcement and Compliance Assurance have each issued a memorandum clarifying the processes each office will use for collecting information from the regulated community.
The Office of Water's memorandum updates the process for requesting information under the Clean Water Act (CWA) by:
Providing guidelines for narrowly defining the information the agency is requesting;
Updating the senior management approval process for initiating the information collection request process; and
Emphasizing the need to engage with the regulated community early in the process so as to reduce the need for formal information request letters.
The Office of Enforcement and Compliance Assurance memorandum focuses on the use of information requests for all compliance- and enforcement-related activities under sections of the Clean Air Act (CAA), the Resource Conservation and Recovery Act (RCRA), and the CWA. The memo includes best practices on:
Using the most efficient methods for obtaining information for compliance and enforcement, including informal information gathering;
Providing clarity to recipients on requests and the process to respond; and
Reducing transaction costs for both the recipients and the government.
---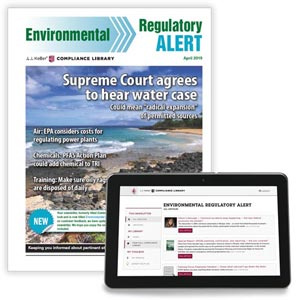 J. J. Keller's Environmental Alert: The Compliance Guide for Safety Professionals helps you stay on top of the latest environmental enforcement issues.
---
J. J. Keller's FREE Workplace SafetyClicks™ email newsletter brings quick-read workplace safety and compliance news right to your email box.