OSHA tells employer to use doctor's diagnosis when determining if illness exists
Posted November 14, 2017
A recently published OSHA letter to an employer sheds light on the Agency's understanding of when an injury or illness exists. The employer asked OSHA to interpret an incident involving three employees who were exposed to hydrofluoric acid in the workplace when an acid line with a booster pump ruptured.
None of the employees reported signs or symptoms right away, but the company sent them off-site for medical examinations. The emergency room physician reported that the employees did not exhibit any symptoms. However, two of the employees later complained of difficulty breathing, skin irritation, throat irritation, and congestion. The employees did not receive any medical treatment beyond first aid and were released to full duty.
The two employees visited an off-site clinic on the same day complaining of shortness of breath, headaches, nausea, coughing, wheezing, and scratchy throats. The medical clinic physician did not find any signs or symptoms in the examination, but did prescribe albuterol inhalers for both workers to treat their shortness of breath.
The employees also returned to the clinic for a follow-up visit several days later, and the physician's notes state that the employees made no complaints of signs or symptoms.
The employer asked OSHA for the interpretation because the prescription for the albuterol inhaler would make a work-related, new case recordable under the injury and illness recordkeeping standard. In this case, OSHA told the employer that neither physician determined that an injury or illness existed as a result of the exposure to the hydrofluoric acid. Therefore, the employer may rely on the doctors' opinions to conclude that no injury or illness occurred.
OSHA referred to Question 4-1 to §1904.4, which states, "In determining whether a case is recordable, the employer must first decide whether an injury or illness, as defined by the rule, has occurred. If the employer is uncertain about whether an injury or illness has occurred, the employer may refer the employee to a physician or other health care professional for evaluation and may consider the health care professional's opinion in determining whether an injury or illness exists. [Note: If a physician or other licensed health care professional diagnoses a significant injury or illness within the meaning of §1904.7(b)(7) and the employer determines that the case is work-related, the case must be recorded.]"
---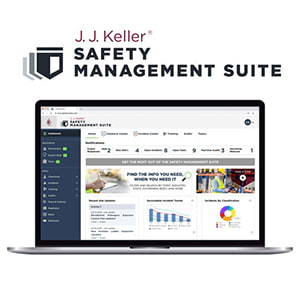 The J. J. Keller® Safety Management Suite provides safety professionals with the tools and applications to help drive performance, reduce risk, and ensure compliance.
---
J. J. Keller's FREE Workplace SafetyClicks™ email newsletter brings quick-read workplace safety and compliance news right to your email box.