OSHA allows inspectors some leeway in enforcing rope descent system anchorage requirements
Posted November 30, 2017
A new memorandum provides guidance to OSHA inspectors on enforcing the new Rope Descent System (RDS) anchorage requirements in 29 CFR 1910.27(b)(1). OSHA addressed these requirements in the final Walking-Working Surfaces rule for general industry, effective January 17, 2017.
The new guidance allows inspectors some leeway in enforcing the standard if employers can demonstrate and document good faith compliance efforts.
Shortage of qualified persons
The final rule gave employers and building owners until November 17, 2017, to comply with requirements for inspecting, testing, and certifying RDS anchorages before any employee uses an RDS. However, the memo says OSHA is aware of a shortage of persons who are qualified to inspect, test, and certify the anchorages for RDS use. In addition, OSHA says some building owners may have inspected tested, and certified RDS anchorages as required, but the anchorage is now out of compliance due to damage or shock loading, and the building owner has been unable to find anyone who can replace or recertify the anchorage before an RDS is scheduled to be used again.
OSHA tells inspectors that in these cases, the inspector should evaluate the efforts of both building owners and employers to comply with §1910.27(b)(1). Evaluations should consider a building owner's attempts to initiate inspection, testing, and certification of RDS anchorages. For employers, inspectors should consider the alternative protective measures used before anchorages are certified, as well as demonstrated and documented compliance efforts to follow the standard's requirements.
Where inspectors believe building owners and employers have sufficiently demonstrated and documented such efforts, the inspector may decide, on a case-by-case basis, not to issue citations.
RDS suspension systems and anchorages
RDS suspension systems allow a worker to descend in a controlled manner and stop at any point during the descent to perform at task. They are generally made up of an anchorage, support rope, descent device, carabiners or shackles, and chair or seatboard. RSD are commonly used for building cleaning, maintenance, and inspection work.
The memo points inspectors to §1910.27(b), which lists the requirements for RDS anchorages. Anchorages are devices installed specifically to support an RDS or fixed structural members of a building, such as posts, beams, girders, and columns that may also serve as RDS anchorages in some cases. Anchorages must be capable of supporting the impact forces that the equipment may apply. Therefore, before a worker uses an RDS, the regulation requires:
The building owner to inform employers, in writing, that the building owner has identified, tested, certified, and maintained each anchorage so it is capable of supporting at least 5,000 pounds, in any direction, for each worker attached. The information must be based on:

An annual inspection by a qualified person; and
Certification by a qualified person as necessary and at least every 10 years.

Employers must ensure that no employee uses RDS anchorages before they have obtained written information from the building owner that each anchorage meets the requirements in the regulation. The employer must also keep that information for the duration of the current job.
The memo concludes with a lengthy inspection guidance checklist that covers the responsibilities of building owners and employers.
---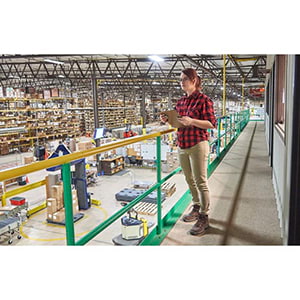 J. J. Keller's Walking-Working Surfaces training helps learners understand the OSHA Walking-Working Surfaces rule and their responsibilities under the new requirements.
---
J. J. Keller's FREE Workplace SafetyClicks™ email newsletter brings quick-read workplace safety and compliance news right to your email box.