FMCSA survey to examine driver commutes
Posted November 29, 2017
A proposed study by the Federal Motor Carrier Safety Administration (FMCSA) would examine the commuting practices of commercial drivers. FMCSA submitted an information collection request to the Office of Management and Budget (OMB) to gain approval for the project, and stakeholders have until January 26, 2018, to offer comments on the survey.
The FMCSA is required under Section 5515 of the "Fixing America's Surface Transportation Act, 2015" (FAST Act) to conduct a study on the safety effects of motor carrier driver commutes exceeding 150 minutes. The administrator is then required to submit a report to Congress containing the findings of the study.
The agency seeks to gather information on the prevalence of excessive driver commuting in the commercial motor vehicle (CMV) industry, including:
Number and percentage of drivers who commute;
Distances traveled, time zones crossed, time spent commuting, and methods of transportation used;
Research on the impact of excessive commuting on safety and CMV driver fatigue; and
Commuting practices of CMV drivers and policies of motor carriers.
You may offer comments on the proposed survey through one of the following methods:
Fax: (202) 493-2251.
Mail: Docket Operations, U.S. Department of Transportation, 1200 New Jersey Ave. SE., West Building, Ground Floor, Room W12-140, Washington, DC 20590-0001.
Hand Delivery or Courier: 1200 New Jersey Avenue SE., West Building, Ground Floor, Room W12-140, Washington, DC 20590 between 9 a.m. and 5 p.m., Monday through Friday, except federal holidays.
When submitting comments, refer to Federal Docket Management System (FDMS) Docket ID FMCSA-2017-0313.
---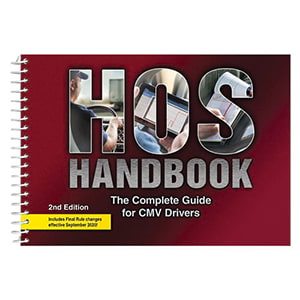 J. J. Keller's HOS Handbook: The Complete Guide for CMV Drivers - 2nd Edition provides the who, what, when, where, why, and how-to of Hours of Service for drivers.
---
J. J. Keller's FREE Transportation SafetyClicks™ email newsletter brings quick-read safety and compliance news right to your email box.