Driver fatigue and poor transportation management plan contributed to deadly crash
Posted November 3, 2017
A deadly crash involving a motorcoach and tractor-trailer on October 23, 2016, was the result of combination of driver fatigue and inadequate transportation management near utility work, according to the National Transportation Safety Board (NTSB).
NTSB's investigation led the agency to believe the crash, which occurred near Palm Springs, California, was due to multiple factors, including:
California Department of Transportation's (Caltrans) inadequate transportation management plan for stopping highway traffic near utility work,
Fatigue related to undiagnosed obstructive sleep apnea, and
Inaction by a driver due to fatigue.
Key facts of the crash are as follows:
The accident occurred during the early-morning darkness of October 23, 2016, on Interstate 10.
The truck and other traffic had been stopped on the highway by police for utility work.
When traffic resumed, the truck did not move.
The motorcoach struck the rear of the truck two minutes later, intruding about 13 feet into the truck trailer and pushing it 71 feet forward.
The motorcoach was traveling at highway speed when it crashed into the stopped truck.
The motorcoach driver and 12 motorcoach passengers died.
According to NTSB, the hazardous situation was triggered when law enforcement did not detect the truck's lack of movement following the traffic break. As result, the motorcoach driver was not given any warning of the potential for stopped traffic ahead.
Both drivers likely fatigued, NTSB reports
The medical qualifications of both drivers were found to be in question based on the following:
The truck driver, according to NTSB, did not proceed after the traffic stoppage because he most likely fell asleep. NTSB attributes the truck driver's fatigue to his undiagnosed, moderate-to-severe obstructive sleep apnea. The truck driver exhibited risk factors for the condition, but had not been tested for sleep apnea.
The motorcoach driver may have been fatigued due to untreated diabetes, NTSB reports. As a result, the driver was unable to respond to the hazard ahead. Despite a positive glucose urine test during the driver's DOT physical examination, the certified medical examiner did not diagnose the condition or refer the driver for further testing.
View the safety recommendations provided in NTSB's report.
---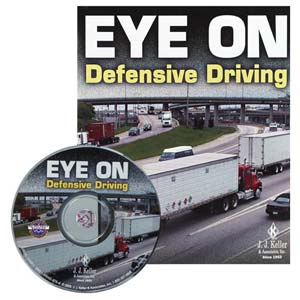 J. J. Keller's EYE ON Defensive Driving - DVD Training is a one-of-a-kind educational tool that trains your drivers on defensive driving techniques, then puts their skills to the test.
---
J. J. Keller's FREE Transportation SafetyClicks™ email newsletter brings quick-read safety and compliance news right to your email box.