Three major OSHA rules expected early 2016
Posted November 30, 2015
The Office of Management and Budget (OMB) released its Fall Unified Agenda and Regulatory Plan on November 19. The agenda provides information on the regulatory and deregulatory actions under development throughout the federal government.
According to the agenda, OSHA's revamped Walking-Working Surfaces final rule will be published in April 2016. The rule has been in the works for many years and the publication date has been a moving target. The agency originally published the proposed rule in 1990 addressing slips, trips, and fall hazards, and establishing requirements for personal fall protection systems. Since that time, new technologies and procedures have become available to protect employees from these hazards. The agency has been working to update these rules and published a second proposed rule May 24, 2010, which reflected current information and increased consistency with other OSHA standards.
OSHA is also projecting that a final rule to lower permissible exposure to silica will be published in February 2016. The proposed rule is meant to protect workers from exposure to respirable crystalline silica — one for general industry and maritime, and the other for construction — in order to allow employers to tailor solutions to the conditions in their workplaces. Another significant OSHA rulemaking on the agenda is the Improve Tracking of Workplace Injuries and Illnesses rule. The agency is projecting a March 2016 publication date for the rule. It would require employers with 250 or more employees to submit all of their injury and illness records to OSHA on a quarterly basis. Employers with 20 or more employees in certain high-hazard industries would be required to submit their annual summaries to OSHA.
---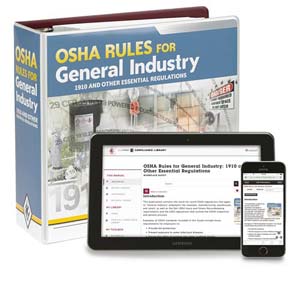 J. J. Keller's OSHA for General Industry: 1910 and Other Essential Regulations offers quick access to OSHA's word-for-word 29 CFR Part 1910 workplace safety regulations along with Parts 1903 and 1904.
---
J. J. Keller's FREE Workplace SafetyClicks™ email newsletter brings quick-read workplace safety and compliance news right to your email box.