NLRB issues final rule on Joint Employer status
Posted October 27, 2023
On October 26, the National Labor Relations Board (NLRB) issued its final rule for determining joint employer status under the National Labor Relations Act (NLRA).
Under the new standard, an entity may be considered a joint employer of a group of employees if it employs the workers and has authority to control at least one of the following terms or conditions:
Wages, benefits, and other compensation;
Hours of work and scheduling;
The assignment of duties to be performed;
The supervision of the performance of duties;
Work rules and directions governing the manner, means, and methods of the performance of duties and the grounds for discipline;
The tenure of employment, including hiring and discharge; and
Working conditions related to the safety and health of employees.
What changes?
The new rule will rescind and replace the joint employer rule that took effect on April 27, 2020.
The 2020 rule had set a higher threshold saying that a joint employer must "possess and exercise . . . substantial direct and immediate control" over essential terms and conditions of employment.
In contrast, the 2023 rule considers the joint employers' authority to control essential terms and conditions of employment, whether or not that control is exercised, and without regard to whether the control is direct or indirect. The reason for this change according to the NLRB, is that an entity holding such control (even if they are not exercising it) may step in at any moment to affect essential terms.
The new rule also provides guidance to both employers and employees regarding their rights and responsibilities in established joint-employer situations.
Timeline
The Notice of Proposed Rulemaking was published by the Federal Register on September 6, 2022, and the comment period for initial comments was open until December 7, 2022. The Board received more than 13,000 comments that it reviewed and considered in drafting the Final Rule.
The effective date of the new rule is December 26, 2023, and the new standard will only be applied to cases filed after the effective date.
This article was written by Judy Kneiszel of J. J. Keller & Associates, Inc.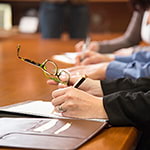 Looking for more on HR compliance?
Get the information and products you need to stay on top of industry changes and comply with regs.