Wonder what a COVID-19 court case looks like?
Posted October 1, 2020
While many employment laws haven't changed due to the pandemic, their application may have taken on a different tone.
Case in point
Gabriel, an employee, was hired as a manager March 2, only eight days before a state of emergency was declared based on the outbreak of COVID-19 in 2020. Gabriel's doctor advised him to telework in order to avoid exposure to the virus due to his asthma. This request was initially granted.
The company wanted all managers to return to the office on May 18. Gabriel again submitted a doctor's note requesting telework for the next four weeks. This request was also granted. On June 19, however, Gabriel's request to continue the status quo was denied. The argument was that no managers were being allowed to work from home. His request was again denied on June 23. He used his allotted leave time from June 29 to July 3.
He reluctantly reported to work on July 6, but most of the protective items he requested (masks, sanitizer, wipes) were not provided. He was given KN95 masks, but Gabriel indicated they were not effective for all work tasks. He also feared exposure to people who were not wearing masks in the workplace.
Gabriel's boss supported his need to telework, indicating that he could perform the job from home, but her attempts were summarily dismissed by her own supervisor, who indicated that all managers were to work from the office.
On August 27, managers with children could telework for up to two days per week. Another manager at the company was permitted to work remotely, putting the policy in question.
Gabriel and his boss unsuccessfully tried once again. Finally, Gabriel said he would resume teleworking on September 8 to protect his health. The company indicated it would enforce its policies if he did. Gabriel assumed that meant that he would be terminated. On September 3, therefore, he filed a complaint claiming disability discrimination, failure to provide a reasonable accommodation, and creating a hostile work environment, all in violation of the Americans with Disabilities Act (ADA).
The claim indicated that Gabriel is likely to succeed on the failure to accommodate argument. The employer did not engage in an interactive process at any of the multiple times Gabriel asked for an accommodation. Asthma can be a disability, particularly in light of the virus. He successfully pled a failure to accommodate claim as his condition subjected him to a heightened risk of death or serious illness if he contracted COVID-19.
Telework is certainly a viable accommodation in certain circumstances, and Gabriel successfully performed the job from home for some time — showing that it was an effective accommodation.
The employer indicated that it accommodated Gabriel by providing face masks, sanitizer, wipes, an air purifier, and separate workspace with less foot traffic. These, however, are generally workplace safety rules, and do not support an argument that it performed an individualized assessment of Gabriel's situation.
While employers need not provide an accommodation that would pose an undue hardship, it is unlikely that this employer will be able to show that allowing Gabriel to work from home would be an undue hardship.
Friends, when an employee requests a workplace change, discuss it with the employee, don't just point to a workplace policy. Particularly when that workplace policy isn't consistently applied. Remember that the virus may bring more employees under the ADA umbrella, so be careful out there.
This article was written by Darlene Clabault of J. J. Keller & Associates, Inc.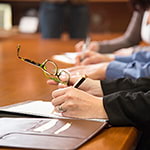 Looking for more on HR compliance?
Get the information and products you need to stay on top of industry changes and comply with regs.