New video provides general overview of OSHA's inspection process
Posted October 21, 2019
OSHA recently released a short video that provides a general overview of its inspection process and discusses how the Agency is helping to protect workers from hazards in the workplace.
The video opens with an explanation of reasons an OSHA inspection may be conducted:
Imminent danger situations
Worker fatalities
Hospitalizations, amputations, or losses of an eye
Worker complaints
Referrals
Targeted inspections of high hazard industries
Follow-up inspections
The video then outlines what to expect during the opening conference, the walkaround (including questions commonly asked of employees during this process), and the closing conference, as well as possible steps to take if a citation is issued.
A Spanish version of the video also is available.
This article was written by Rachel Krubsack of J. J. Keller & Associates, Inc.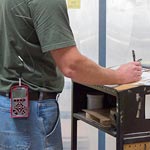 Looking for more on workplace safety?
Get the information and products you need to stay on top of industry changes and comply with regs.