DOT drug and alcohol clearinghouse registration begins
Posted October 1, 2019
The CDL Drug and Alcohol Clearinghouse portal is now accepting stakeholder registrations in advance of the website's launch on January 6, 2020.
Motor carriers, medical review officers, substance abuse professionals, and consortium/third-party administrators must create an account to submit information to the portal. Motor carriers will need an account to perform the required investigations of drivers via the clearinghouse, and drivers may need an account depending on the type of query.
Submitting of data
Once implemented, employers and their service agents must populate the clearinghouse with:
Their employees' DOT drug and alcohol violations under Part 382, and
Verification of a CDL driver's completed steps in the DOT return-to-duty process.
A clearinghouse account is necessary to provide these data elements.
Employer queries of the system
Effective January 6, 2020, motor carriers must request clearinghouse queries on applicants and existing CDL drivers. This task also requires the motor carrier have an active portal account. A driver may need an account.
The clearinghouse has driver privacy built into its rulemaking. A motor carrier must have permission to request a driver's DOT drug and alcohol history. The medium for consent differs based on the report type being provided.
A limited query is performed annually on existing drivers. The limited query simply alerts a motor carrier whether the driver has information in the database. Drivers sign a general consent of the motor carrier's making that is outside of the clearinghouse. Motor carriers may ask drivers to sign a consent that will work for more than one year, provided the release has an end date.
If a current driver has data in the clearinghouse, the employer must request a full query, which includes detailed information on the violation and any completed steps in the return-to-duty process. Motor carriers must also perform a full query as a part of the pre-employment process on new hires.
Due to the sensitive nature of the full query, the driver must have a portal account to electronically provide authorization. As a result, all applicants need a portal account, while existing drivers would only need one if a full query is necessary.
If a driver refuses to give permission to access his or her clearinghouse record (limited or full query), he or she cannot perform a safety-sensitive function.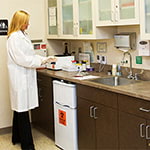 DOT Drug & Alcohol Testing Program Management Service
Full-service testing and file management services from experts who know DOT requirements.