NIOSH against OSHA proposal to roll back e-reporting
Posted October 5, 2018
Opportunities for enhanced occupational injury and illness surveillance and prevention could be missed if OSHA's proposed rule to roll back e-reporting is implemented, the National Institute for Occupational Safety and Health (NIOSH) stated in comments submitted to the Federal eRulemaking Portal. OSHA wants to remove the requirement for employers with 250 or more employees to submit the 300 Log and 301 Incident Reports. These employers will still have to submit their 300A Summary information.
NIOSH reviewed the proposed changes to Tracking of Workplace Injuries and Illnesses and outlined its concerns in a document submitted through the rulemaking portal. The Agency highlighted the following in its comments:
Missed opportunities for enhanced occupational health surveillance and research.
OSHA collection of 300 and 301 data supported by National Academies Smart Surveillance report.
Importance of narrative text data sets. The log data include descriptions of the circumstances, causes, and nature of the recorded injuries, essentially providing a short story about how an injury or illness developed or occurred. Researchers can then use this to develop ideas for prevention in various industries.
Capacity to analyze narrative text data sets. Computer methods have been developed to efficiently mine narrative text data for better analysis.
Success in using similar data from workers' compensation claims. Because OSHA log data is similar to workers' compensation claim data, both can be used for occupational health surveillance and prevention.
OSHA log data is an important resource for accomplishing NIOSH surveillance and research goals.
Usefulness of similar OSHA severe injury data. Supplementing severe injury data with OSHA 300 and 301 data would increase its value.
Support for collection employer identification number (EIN).
To read the comments in full, go to the Federal eRulemaking Portal and search for OSHA-2013-0023-2003.
---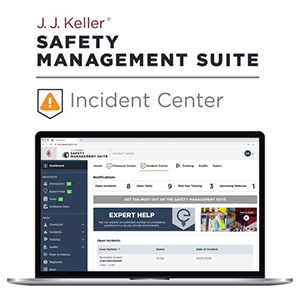 J. J. Keller's Incident Center helps you simplify your OSHA recordkeeping and analyze, report, manage, and prevent workplace incidents.
---
J. J. Keller's FREE Workplace SafetyClicks™ email newsletter brings quick-read workplace safety and compliance news right to your email box.