Fatal crashes involving large trucks up 9% in 2017
Posted October 5, 2018
During a year when the number of fatal motor vehicle crashes decreased, such crashes involving large trucks were on the rise.
The National Highway Traffic Safety Administration (NHTSA) released results of the 2017 Fatality Analysis Reporting System (FARS) traffic report. Overall, the numbers showed that deaths on U.S. roads fell nearly 1.8 percent from 2016 to 37,133 in 2017.
Crash fatalities decreased in nearly every segment of the population measured except for sport utility vehicles (up 3 percent), and large trucks (up 9 percent). Large truck crashes were responsible for 4,761 deaths in 2017, compared to 4,369 in 2016.
For the FARS report, a large truck is defined as any medium or heavy truck, excluding buses and motor homes, with a gross vehicle weight rating greater than 10,000 pounds, including commercial and noncommercial vehicles.
Trucks with a weight rating of greater than 26,000 pounds saw an increase in fatalities by 3.8 percent, according to Ray Martinez, Administrator of the Federal Motor Carrier Safety Administration (FMCSA).
Fatal truck crashes were significantly on the rise for trucks with a gross vehicle weight between 10,000 and 14,000 pounds, a class of vehicles that could include many vehicles not regulated by the FMCSA. However, the specific total for fatalities involving this class had not been determined at the time of release.
Martinez said the improved economy has contributed to an increase of medium and heavy trucks on the road in a working capacity, leading to higher potential for crashes.
Martinez also noted that about 40 percent of the fatalities involving large trucks included occupants who were not wearing seat belts.
Other crash statistics involving large-truck fatalities include:
Fatalities in other vehicles involved in large-truck crashes experienced an 8.8 percent increase from 2016 (280 occupants).
Large-truck occupant fatalities in multiple-vehicle crashes increased by 76 to 343 fatalities, a 28.5 percent increase from 2016.
Large-truck occupant fatalities in single-vehicle crashes increased by 40 to 498 fatalities, an 8.7 percent increase from 2016.
This overall decrease in highway fatalities in 2017 came after two years of consecutive increases in 2015 and 2016. The decrease in fatalities came during a time when vehicle miles traveled (VMT) increased 1.2 percent from 2016 and the fatality rate per 100 million VMT decreased 2.5 percent.
Dave Lubach is a transport editor for J. J. Keller & Associates, Inc.
---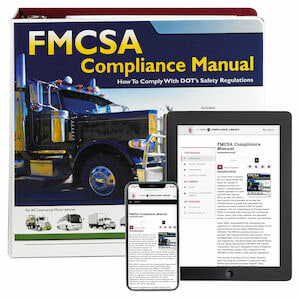 J. J. Keller's FMCSA Compliance Manual helps companies operating commercial motor vehicles (CMVs) comply with DOT regulations.
---
J. J. Keller's FREE Transportation SafetyClicks™ email newsletter brings quick-read safety and compliance news right to your email box.