Bill would eliminate FMLA "sharing" provision
Posted October 16, 2018
Under the Family and Medical Leave Act (FMLA), when two employees are married and take leave for certain reasons, the employer may require that they "share" the 12 weeks of leave. These reasons are as follows:
The birth of a son or daughter and bonding with the newborn child,
The placement of a son or daughter with the employee for adoption or foster care and bonding with the newly-placed child, and
The care of a parent with a serious health condition
On October 11, Senators Joni Ernst (R-IA), Tom Cotton (R-AR), Claire McCaskill (D-MO) and Heidi Heitkamp (D-ND) introduced the Fair Access to Individuals to Receive (FAIR) Leave Act (S 3593), bipartisan legislation that would eliminate an employer's option of requiring married employees to share the FMLA leave.
Were the measure to pass, married couples who work for the same employer could no longer be restricted in the amount of leave they can take under the FMLA to care for a newborn, sick parent or servicemember or for the adoption of a child.
In other words, the FAIR Leave Act would entitle eligible spouses working for the same employer to each take up to 12 work weeks (24 weeks total between the two) of unpaid leave in a 12-month period for those FMLA-qualifying reasons.
The legislation would also allow eligible spouses to each take 26 weeks to care for a covered servicemember with a serious injury or illness. While this reason is not as common as the others, employers would need to be aware of the change.
The FMLA currently does not otherwise limit married employee's leave when taken for the following reasons:
The care of a spouse or son or daughter with a serious health condition;
A serious health condition that makes the employee unable to perform the essential functions of his or her job; and
Any qualifying exigency arising out of the fact that the employee's spouse, son, daughter, or parent is a military member on covered active duty.
This provision would remain intact.
The measure has been read twice and referred to the Committee on Health, Education, Labor, and Pensions. It was designed to help new parents and families.
This article was written by Darlene M. Clabault, SHRM-CP, PHR, CLMS, of J. J. Keller & Associates, Inc.
---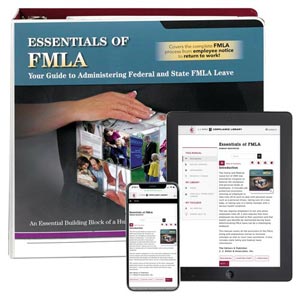 Learn more about products and services that provide you with confidential, consistent, high-quality leave management on our FMLA resource page.
---
J. J. Keller's FREE HRClicks™ email newsletter brings quick-read human resources-related news right to your email inbox.