Professionals admit being bored at work more than 10 hours a week, survey shows
Posted October 20, 2017
If you've ever had a case of the blahs at work, you're not alone. According to a new survey from OfficeTeam, professionals admit they're bored in the office an average of 10.5 hours per week. That's more than a full day a week, or the equivalent of 68 days a year. Senior managers interviewed acknowledged the doldrums do exist but estimated their staff is likely disinterested about six hours each week.
Additionally, two in five employees (40 percent) said it's likely they'd quit their job if they felt bored at work.
Findings:
Of all respondent groups, male workers and those ages 18 to 34 are bored the most per week (12 hours and 14 hours, respectively).
Men (46 percent) and employees ages 18 to 34 (52 percent) are also most likely to leave their current position if bored.
More than one-quarter of senior managers (28 percent) think the main reason boredom strikes is because employees don't feel challenged by assignments.
While 45 percent of professionals are equally bored throughout the year, another 28 percent said work is most tedious during the winter.
In general, nearly four in 10 senior managers (39 percent) believe staff have too much work to do in their jobs.
Employees were also asked what they do when they're bored in the office. In addition to browsing the internet, checking personal email and social media, and chatting with coworkers, here are some of their more creative activities:
Have rubber band battles with coworkers
Make grocery lists and cut coupons
Learn another language
Do crossword puzzles
Play ping pong
Doodle
Make videos
Pay bills
Watch TV or movies online
Work on the book I'm writing
Play online games
Daydream
Act like I'm interested in the work and meetings
Clean my desk
Ask for more work
Look for other jobs
About the research
The surveys of workers and senior managers were developed by OfficeTeam. They were conducted by independent research firms and include responses from more than 380 U.S. workers 18 years of age or older and more than 300 senior managers at U.S. companies with 20 or more employees.
---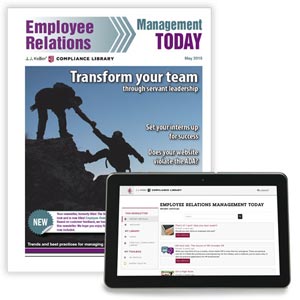 The SUPER adVISOR™ newsletter contains four pages dedicated to the HR manager and a corresponding four-page pullout dedicated to the needs of supervisors.
---
J. J. Keller's FREE HRClicks™ email newsletter brings quick-read human resources-related news right to your email inbox.