Proposed HOS study would pause 14-hour window
Posted September 1, 2020
The Federal Motor Carrier Safety Administration (FMCSA) is seeking public comment on a proposed pilot program that would study the effects of extending a property-carrying driver's day up to three hours.
The "Split Duty Period Pilot Program" would operate over a three-year period, recruiting up to 400 qualifying commercial driver's license (CDL) holders. Drivers would participate in the study up to a year.
Drivers in the program would be allowed to pause their 14-hour on-duty driving period with one off-duty period between 30 minutes and 3 hours, provided the drivers take 10 consecutive hours off-duty at the end of the day.
Before moving forward with the study, the FMCSA is required by law to gather public input on the proposal for 60 days. If the agency decides to implement the study, it must report its findings to Congress after the program concludes. This is a necessary step before the agency can proceed with any changes to the hours-of-service (HOS) regulations.
Note: As of the deadline of this article, the FMCSA had not yet published a notice in the Federal Register to request comments.
This article was written by Kathy Close of J. J. Keller & Associates, Inc.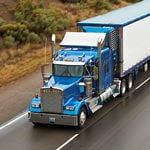 Looking for more on transportation safety?
Get the information and products you need to stay on top of industry changes and comply with regs.