Oregon employers urged to stop or delay outdoor work to protect employees
Posted September 18, 2020
As harmful air quality persists due to wildfires, Oregon employers are urged to stop or delay outdoor work activity where possible and take other reasonable steps to protect employees when air quality reaches the "unhealthy" zone.
Oregon OSHA reminds employers of their responsibility to provide safe and healthy workplaces and to recognize and address hazards, which includes unsafe air quality. The Agency says part of that responsibility includes:
Closing outdoor work activity when air quality in an area becomes "unhealthy," or reaches an Air Quality Index (AQI) of at least 151;
Allowing employees with underlying health conditions to stay home;
Re-arranging work schedules, hours, and tasks in a way that enables employees to get relief from smoky outdoor air; and
Providing N95 masks, where and when appropriate, and informing employees of their proper use and care.
Employers are encouraged to check the state's Air Quality Index Map and air quality ratings at the beginning of a shift and every hour into the shift to ensure employees are not working in "unhealthy" or worse conditions. Indoor air quality also may become a concern. Employers are encouraged to check a building's ventilation system to make sure it has received routine maintenance, such as filter changes.
Affected outdoor operations include farming harvests, construction, and those in which outdoor activities require heavy and prolonged exertion.
This article was written by Rachel Krubsack of J. J. Keller & Associates, Inc.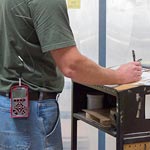 Looking for more on workplace safety?
Get the information and products you need to stay on top of industry changes and comply with regs.