Final research agenda for hearing loss prevention issued
Posted September 23, 2019
The National Institute for Occupational Safety and Health (NIOSH) says the final National Occupational Research Agenda (NORA) for Hearing Loss Prevention is now available. The Agenda is intended to identify the knowledge and actions most urgently needed to prevent hearing loss in the workplace, and to provide a vehicle for stakeholders to describe the most relevant issues, research gaps, and needs for workers across various industries.
The following objectives were agreed upon for the hearing loss prevention Agenda, which was finalized after a public comment period:
Provide scientific basis for policies and guidelines that will inform best practices for hearing loss prevention efforts.
Develop effective, evidence-based education designed to improve hearing conservation program outcomes for exposed workers and management.
Develop, commercialize, and widely implement noise control solutions on jobsites in key industries.
Develop audiological tests for hearing loss prevention.
Improve occupational hearing loss surveillance.
NORA says its Hearing Loss Prevention Cross-Sector focuses on reducing occupational hearing loss through research on controlling hazardous noise and ensuring hearing protectors are as effective as possible where dangerous noise exposures have not yet been controlled or eliminated.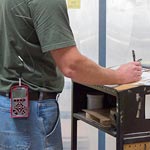 Looking for more on workplace safety?
Get the information and products you need to stay on top of industry changes and comply with regs.