OSHA updates guidance for inspectors with links to latest heat stress scientific information
Posted September 25, 2017
OSHA recently updated its heat stress enforcement guidance for Compliance Safety and Health Officers (CSHOs). The revisions to the OSHA Technical Manual Section III, Chapter 4 – Heat Stress focuses on technical information unique to the Agency's enforcement needs.
While OSHA does not have a specific standard addressing heat stress, the Agency does cite employers for violating the General Duty Clause of the Occupational Safety and Health Act. The General Duty Clause requires employers to furnish a place of employment that is free from recognized hazards that are causing or are likely to cause death or serious physical harm to employees.
OSHA says the update leverages information on heat stress already available from other organizations through links. This ensures CSHOs have consistent access to the most up-to-date heat health science.
The chapter uses information from the American Conference of Governmental Industrial Hygienists (ACGIH) and the National Institute for Occupational Safety and Health (NIOSH) for assessing risks, describing elements in a successful heat illness prevention program, and describing the signs and symptoms of heat illnesses. The update also provides methods to measure or calculate the Wet Bulb Globe Temperature (WBGT) for determining if a heat hazard is present in the workplace.
Significant revisions to the chapter include the following additions:
Links to the 2016 NIOSH Criteria for a Recommended Standard on Occupational Exposure to Heat and Hot Environments.
A systematic technical guide for using measured and calculated WBGT in combination with clothing and metabolic rate to compare to the ACGIH Action Limit and Threshold Limit Value for determining if workplace conditions present a heat hazard.
A link to download a calculator tool and instructions to determine WBGT when a meter is not available, or when using historic weather information to recreate worksite conditions.
---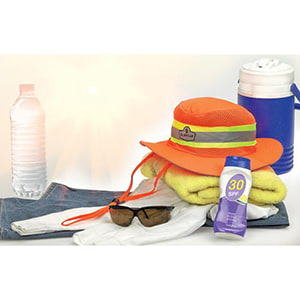 J. J. Keller's Heat Stress - Online Training Course helps employees understand the dangers of heat stress and how to prevent and respond to a heat stress emergency.
---
J. J. Keller's FREE Workplace SafetyClicks™ email newsletter brings quick-read workplace safety and compliance news right to your email box.