EPA updates chapters in pesticide labeling guide
Posted September 29, 2017
EPA recently updated two chapters in its Pesticide Label Review Manual (LRM). The LRM serves as a guide for EPA label reviews and as tool for understanding the pesticide labeling process. In addition, the manual describes general approaches for drafting labels.
The LRM is an instructional aid that does not establish new guidance, but compiles existing interpretations of statutory and regulatory provisions and existing Agency policies. EPA updated Chapters 15 and 16 in the manual, addressing the use of company names and graphics and symbols.
Under the Federal Insecticide, Fungicide, and Rodenticide Act (FIFRA), manufacturers and distributors must follow EPA's strict registration and labeling requirements in order to sell a pesticide. The Agency is especially attentive to product labeling that makes public health claims. Unlike most other types of product labels, pesticide labels are legally enforceable, and all of them must carry the statement, "It is a violation of federal law to use this product in a manner inconsistent with its labeling."
A pesticide, according to EPA's definition, is any substance or mixture of substances intended to prevent, destroy, repel, or mitigate any pest; used as a plant regulator, defoliant, or desiccant; or used as a nitrogen stabilizer.
EPA expressed interest in making the manual more useful as a tool for understanding the pesticide labeling process. Further, the Agency said it will continue to consider each label on its own merits and will consider deviations from its policy in labeling under the appropriate FIFRA provisions.
EPA will accept suggestions or observations for the manual on its Pesticide Labeling Questions and Answers page.
---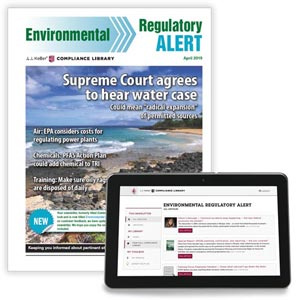 J. J. Keller's Environmental Alert: The Compliance Guide for Safety Professionals helps you stay on top of the latest environmental enforcement issues.
---
J. J. Keller's FREE Workplace SafetyClicks™ email newsletter brings quick-read workplace safety and compliance news right to your email box.