OSHA extends comment period for proposed rule clarifying employers' continuing obligation to make and maintain accurate records
Posted September 24, 2015
OSHA is extending the deadline for submitting comments on the proposed rule that clarifies an employer's continuing obligation to make and maintain an accurate record of each recordable injury and illness. The comment due date has been extended to October 28, 2015.
OSHA issued this proposed rule in light of the decision of the U.S. Court of Appeals for the D.C. Circuit in AKM LLC v. Secretary of Labor (Volks). OSHA had cited and fined the employer for failing to properly record certain workplace injuries and for failing to properly maintain its injury log between January 2002 and April 2006. OSHA issued the citations in November 2006, which was at least six months after the last unrecorded injury occurred. The D.C. Circuit Court held that OSHA cannot cite employers for failure to record work-related injuries and illnesses more than six months after the initial obligation to record the cases occurred. The statute of limitations for violations of the OSH Act is "six months following the occurrence of any violation."
OSHA's issuance of the citations to the employer was consistent with its past practice of citing employers for recordkeeping violations that occurred more than six months prior, but within the five-year period the employer would have been required to retain a record in accordance with 29 CFR §1904.33(a). This practice was first addressed and upheld by the Occupational Safety and Health Review Commission (OSHRC) in 1993 and has been consistently upheld since. OSHA issued this proposed rule to clarify its position that the duty to record an injury or illness continues for as long as the employer must keep records of the recordable injury or illness.
The proposed rule was published in the July 29, 2015, issue of the Federal Register. Members of the public can submit written comments on the proposed rule at http://www.regulations.gov, the Federal e-Rulemaking Portal. See the Federal Register notice for submission details.
---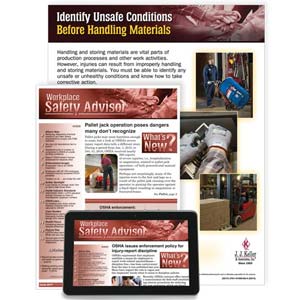 J. J. Keller's Workplace Safety Advisor helps employees recognize noise-related dangers and their consequences.
---
J. J. Keller's FREE Workplace SafetyClicks™ email newsletter brings quick-read workplace safety and compliance news right to your email box.