Respiratory Protection Week observed September 7-10
Posted August 27, 2021
The National Institute for Occupational Safety and Health (NIOSH) has announced that its annual Respiratory Protection Week will take place September 7–10, 2021.
First launched in 2012 as N95 Day and then expanded to Respiratory Protection Week in 2019, this observance provides NIOSH an opportunity to share research findings and release educational tools to help promote proper respiratory protection practices.
In 2021, NIOSH developed new products to help address frequently asked questions (FAQs). This year's observance will include two webinars focused on educating participants on the role NIOSH and other federal agencies play in protecting workers who rely on respiratory protection.
NIOSH encourages employers to host respiratory protection activities within their own organizations, such as employee training sessions or educational messages pertaining to specific workplace hazards that require respiratory protection.
This article was written by Rachel Krubsack of J. J. Keller & Associates, Inc.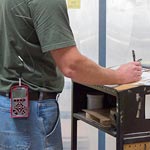 Looking for more on workplace safety?
Get the information and products you need to stay on top of industry changes and comply with regs.