Medical Review Board offers input on proposed alternate vision standard
Posted August 27, 2021
The Federal Motor Carrier Safety Administration (FMCSA) received 69 comments from stakeholders in response to proposed changes to the vision standard for commercial drivers. The agency's Medical Review Board (MRB) reviewed and analyzed the public comments from earlier this year and offered recommendations.
FMCSA has made the MRB's report available to the public and is seeking comments on it. MRB Task 21-1 Report is available in Docket Number FMCSA-2019-0049. Comments referenced in the report can be viewed at regulations.gov/docket/FMCSA-2019-0049/document.
Comments must be received on or before September 23, 2021.
Current vision standards
Section 391.41(b)(10) considers individuals physically qualified to drive a commercial motor vehicle (CMV) if they have:
Distant visual acuity of at least 20/40 (Snellen) in each eye without corrective lenses or visual acuity separately corrected to 20/40 (Snellen) or better with corrective lenses,
Distant binocular acuity of at least 20/40 (Snellen) in both eyes with or without corrective lenses,
Field of vision of at least 70 degrees in the horizontal meridian in each eye, and
The ability to recognize the colors of traffic signals and devices showing standard red, green, and amber.
This standard has not changed since it became effective on January 1, 1971.
FMCSA has maintained a vision exemption program for drivers who do not meet the criteria. Exemptions are granted on a case-by-case basis. Note that FMCSA does not grant exemptions for color blindness.
Proposed vision standard
On January 12, 2021, FMCSA published proposed rule for an alternative vision standard for individuals unable to meet either the current distant visual acuity or field of vision standard, or both, without needing a special exemption.
The agency proposes a vision standard that resembles what the agency recently adopted for insulin-treated diabetes mellitus, involving a two-step process for physical qualification. Under the proposed rule:
The driver must obtain a vision evaluation from an ophthalmologist or optometrist who would record the findings and provide specific medical opinions on the proposed Vision Evaluation Report, Form MCSA–5871.
A certified medical examiner (ME) would then:

Perform an examination and determine whether the individual meets the proposed vision standard, as well as FMCSA's other physical qualification standards.
Medically certify the driver for a maximum of 12 months if he or she determines that the individual meets the physical qualification standards.
During the driver's medical exam, the ME would consider the information on Form MCSA–5871 and use independent medical judgment to apply the following four standards. The driver must:
Have, in the better eye, distant visual acuity of at least 20/40, with or without corrective lenses, and field of vision of at least 70 degrees in the horizontal meridian;
Be able to recognize the colors of traffic signals and devices showing standard red, green, and amber;
Have a stable vision deficiency; and
Have had sufficient time to adapt to and compensate for the change in vision.
The proposed rule eliminates the need for three years of intrastate driving experience with a vision deficiency, as required in the current federal exemption program.
Under the proposal, those individuals physically qualified under the alternative vision standard for the first time must complete a road test performed by the motor carrier in accordance with §391.31.
Individuals who have already demonstrated they can operate a CMV safely with a vision deficiency, based on one of the following, would be excepted from the road test requirement:
Have three years of CMV driving experience with the vision deficiency,
Hold a valid federal vision exemption, or
Are medically certified under the vision study program (§ 391.64(b)).
With respect to the MRB report, if the MRB does not make a specific recommendation to change a provision, the MRB concurs with the item in the January 2021 proposed rulemaking.
This article was written by Kathy Close of J. J. Keller & Associates, Inc.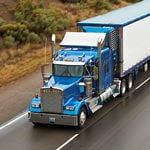 Looking for more on transportation safety?
Get the information and products you need to stay on top of industry changes and comply with regs.