CDC: Let customers go without masks if fear of violence
Posted August 28, 2020
Employees should not attempt to force anyone who appears violent or upset to follow COVID-19 prevention policies or practices, the Centers for Disease Control and Prevention (CDC) recommends on its website. Threats or acts of violence should be reported to a manager or supervisor, following any existing policies that may be in place, and employees should go to a safe area if needed.
The CDC's website offers strategies to limit violence towards workers that may occur when businesses put in place policies and practices to help minimize the spread of COVID-19 among employees and customers. Businesses may need to adapt these strategies based on their physical space, staffing, and other factors.
Workplace violence prevention strategies include:
Offering customers options to minimize contact with others, such as curbside pickup;
Advertising COVID-19 related policies on the business website;
Posting signs that let customers know about policies for wearing masks, social distancing, etc.;
Establishing steps to assess and respond to workplace violence;
Assigning two workers to work as a team to encourage COVID-19 prevention policies be followed;
Identifying a safe area for employees to go to if they feel they're in danger;
Providing employee training on threat recognition, conflict resolution, and nonviolent response;
Supporting employees and customers if a threatening or violent situation occurs; and
Installing security systems, such as panic buttons, cameras, and alarms, and training employees on how to use them.
This article was written by Rachel Krubsack of J. J. Keller & Associates, Inc.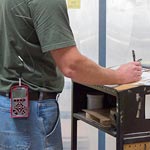 Looking for more on workplace safety?
Get the information and products you need to stay on top of industry changes and comply with regs.