Two OSHA rulemakings at OMB
Posted August 19, 2019
Two OSHA rulemakings recently were sent to the Office of Management and Budget (OMB) for review. The Mine Safety and Health Administration's (MSHA) respirable crystalline silica prerule, or Request for Information (RFI), will solicit information and data on the best and most feasible ways to protect miners' health from exposure to quartz in respirable dust, including an examination of an appropriately reduced permissible exposure limit, potential new or developing protective technologies, and/or technical and educational assistance.
OSHA's final rule on qualitative fit testing protocols for respiratory protection also is pending review. The Agency received a submission to consider three new quantitative fit test protocols that reduce the time required to complete the fit test while maintaining acceptable test sensitivity, specificity, and predictive value. OSHA says the rulemaking action evaluates the efficacy of the submitted test protocols and, if appropriate, the Agency will adopt them in Appendix A to 1910.134.
According to the Spring 2019 Regulatory/Deregulatory Agenda, OSHA expects to publish the final rule on respiratory protection in the Federal Register in August.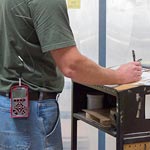 Looking for more on workplace safety?
Get the information and products you need to stay on top of industry changes and comply with regs.