NIOSH to celebrate inaugural Respiratory Protection Week Sept. 3-6
Posted August 30, 2019
Since 2012, the National Institute for Occupational Safety and Health (NIOSH) has recognized September 5 as N95 Day, a day to bring awareness to the importance of respiratory protection, specifically N95s. This year, the Agency is doing something different.
According to NIOSH, 100 years ago the U.S. Department of Mines initiated the first respirator certification program in the U.S. Today, the National Personal Protective Technology Laboratory (NPPTL) carries out research, testing, and related activities aimed at protecting workers through personal protective equipment (PPE).
To recognize this milestone, NIOSH says it is expanding N95 Day into a more inclusive observance to occur annually the first week of September.
From September 3-6, 2019, NIOSH will celebrate the first annual Respiratory Protection Week. This year's observance will recognize the history of respiratory protection as well as the science and certification work that is happening now to protect workers both today and in the future. NIOSH will host several webinars, an online poster session, have new educational products, and work with its partners to spread the word via social media.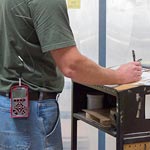 Looking for more on workplace safety?
Get the information and products you need to stay on top of industry changes and comply with regs.