California glass recycler to pay $1.2M for illegal battery disposal
Posted August 19, 2019
A California glass recycler will pay $1.2 million to settle allegations that its Sacramento facility illegally disposed of more than 500,000 pounds of discarded batteries from homes and businesses, California's Department of Toxic Substances Control (DTSC) announced.
A DTSC investigation found the company had mismanaged batteries mixed in with the glass sorted from curbside recycling, sending the batteries to a municipal landfill instead of managing them as hazardous waste.
Under the terms of the settlement, the company will pay $900,000 to DTSC in civil penalties; spend $253,000 to implement more protective measures, including on-site improvements; and provide $47,000 toward a Supplemental Environmental Project to develop hazardous waste training programs related to the proper management of universal waste.
In May 2015, DTSC inspectors went to the recycler's Sacramento facility to investigate whether it was processing unrecyclable cathode ray tube and other leaded glass as recyclable glass. While they found no evidence of lead-laden glass, they discovered violations related to the disposal of the discarded batteries over the previous five years.
All batteries are considered hazardous waste in California when they are discarded. They must be taken to a universal waste facility or an authorized recycling facility.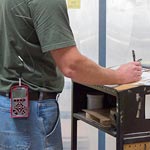 Looking for more on workplace safety?
Get the information and products you need to stay on top of industry changes and comply with regs.