More OFCCP directives; contractor compensation, AAPs, and a recognition program
Posted August 28, 2018
The U.S. Department of Labor's Office of Federal Contract Compliance Programs (OFCCP) announced three more directives, including new procedures for the agency to review contractor compensation practices, a program to verify that contractors are in compliance with federal affirmative action program (AAP) requirements, and an initiative establishing a recognition program for contractors with high-quality and high-performing compliance programs and initiatives.
Clear Guidance for Contractor Compensation Practices: This directive, focusing on pay discrimination, further clarifies and provides additional transparency to contractors about OFCCP's approach to conducting compensation evaluations; supports compliance and compensation self-analyses by contractors under applicable law and OFCCP regulations and practices; and improves compensation analysis consistency and efficiency during compliance evaluations. OFCCP believes that more substantial guidance will better support contractors' ability to conduct meaningful audits so that they can proactively identify and address issues with their compensation practices. This directive applies to all OFCCP reviews scheduled on or after August 24, 2018.
Affirmative Action Program Verification Initiative: By law, federal contractors are required to take affirmative steps to ensure equal opportunity in their employment processes, including the development of an AAP within 120 days of the commencement of the contract, along with annual updates. OFCCP is charged with ensuring that federal contractors fulfill these requirements. The Government Accountability Office found in a 2016 report that "close to 85 percent of contractor establishments did not submit a written AAP within 30 days of receiving a scheduling letter." The new OFCCP initiative establishes a program for verifying compliance by all contractors with AAP obligations, basically, expanding the OFCCP's compliance reach.
Contractor Recognition Programs: Contractor recognition programs can encourage more comprehensive and proactive compliance efforts. Today's directive establishes a contractor recognition program that will include awards that highlight implementable best or model contractor practices, a contractor mentoring program that uses contractors to help their peers improve compliance, and other initiatives that provide opportunities for contractors to collaborate or provide feedback to OFCCP on its compliance assistance efforts.
OFCCP enforces federal laws that prohibit federal contractors and subcontractors from discriminating on the basis of race, color, religion, sex, sexual orientation, gender identity, national origin, disability or status as a protected veteran. In addition, contractors and subcontractors are prohibited from discriminating against applicants or employees because they inquire about, discuss, or disclose their compensation or that of others, subject to certain limitations.
These three directives appear to be a bit of carrots (contractor recognition) and sticks (compensation review and AAP verification). Self-audits may help find issues before the OFCCP does, and help avoid issues in the future.
This article was written by Darlene M. Clabault, SHRM-CP, PHR, CLMS, of J. J. Keller & Associates, Inc.
---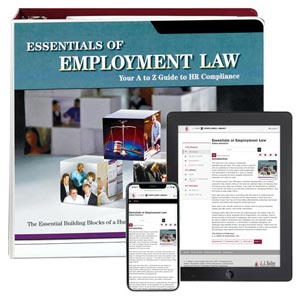 J. J. Keller's Essentials of Employment Law Manual covers more than 100 vital HR topics, including FMLA, ADA, HIPAA, FLSA, COBRA and more.
---
J. J. Keller's FREE HRClicks™ email newsletter brings quick-read human resources-related news right to your email inbox.