OSHA e-Reporting portal reopens Friday, August 25, 2017
Posted August 25, 2017
OSHA will reopen its Injury Tracking Application (ITA) on August 25 after 9 a.m. and will continue its established security monitoring. The site had been shut down since August 14, when OSHA received an alert from the Department of Homeland Security's U.S. Computer Emergency Readiness Team (US-CERT) that flagged a possible security breach of user information. OSHA identified one company that may have been affected and notified the company of the issue. OSHA was concerned that personally identifiable information (PII) may have been compromised. PII includes user names and passwords.
OSHA said that a complete scan was conducted by the National Information Technology Center (NITC), which confirmed there was no breach in the data on the ITA and no information in the ITA was compromised.
As part of the review, the entire OSHA website was scanned. In addition, OSHA says it implemented improvements to the site.
OSHA's ITA is the portal through which employers who are covered by the e-Reporting requirements of the 2016 Improve Tracking of Injuries and Illnesses final rule report their workplace injury and illness data to the Agency. The original reporting deadline was July 1, 2017; however, on June 27, OSHA proposed a rule to delay the reporting deadline until December 1, 2017. The website became available to employers on August 1.
---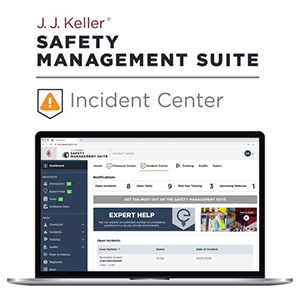 J. J. Keller's Incident Center helps you simplify your OSHA recordkeeping and analyze, report, manage, and prevent workplace incidents.
---
J. J. Keller's FREE Workplace SafetyClicks™ email newsletter brings quick-read workplace safety and compliance news right to your email box.