Chemical Safety Board reminds oil and chemical facilities to take safety precautions when restarting
Posted August 30, 2017
The U.S. Chemical Safety Board (CSB) issued a Safety Alert urging oil and chemical facilities to take special precautions when restarting in the wake of shutdowns due to Hurricane Harvey. The Board warned facilities to follow established startup procedures and checklists and reminds facilities that "human performance may be compromised due to crisis conditions."
The CSB cautions that the startup of major processes at chemical facilities is a hazardous phase; facilities should pay particular attention to process safety requirements during this critical period to assure a safe return to normal operations.
According to the CSB, restarting a complex petrochemical process requires a higher level of attention and care than normal processing, because many activities are occurring at the same time. Also, many automatic systems are having to run under manual control.
A significant number of facilities were shut down during Hurricane Harvey, meaning there will be a significant number of facilities restarting, thereby increasing the safety risks.
The CSB's Safety Alert outlines specific procedures to assure safe restarts. The procedures are titled, "Rely on Established Safety Systems," and "Check Process Equipment Thoroughly." Additional safety protocols require checking bulk storage tanks for evidence of floating displacement or damage, and to examine insulation systems, sewers, drains, furnace systems, electric motors, and other equipment, including warning systems, to ensure they are fully functioning.
Find the full text of the alert on the CSB website.
---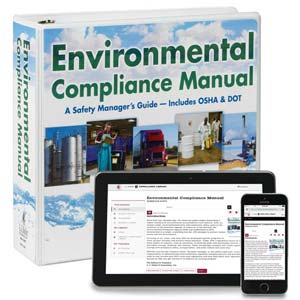 J. J. Keller's Environmental Compliance Manual is packed with easy-to-understand information on regulations, environmental issues and compliance.
---
J. J. Keller's FREE Workplace SafetyClicks™ email newsletter brings quick-read workplace safety and compliance news right to your email box.