EPA extends compliance deadlines for certain CCRs
Posted August 10, 2016
EPA is taking direct final action to extend the compliance deadlines for certain inactive coal combustion residuals (CCRs) surface impoundments.
The agency's direct final rule extends the deadlines for the owners and operators of those inactive CCR surface impoundments that had taken advantage of "early closure" provisions, who became newly subject to the rule's requirements for existing CCR surface impoundments on June 14, 2016, when the United States Court of Appeals for the District of Columbia Circuit ordered the removal of those provisions. The effect of the removal is that all inactive CCR surface impoundments must now comply with all of the requirements applicable to existing CCR surface impoundments.
This rule provides time for these owners and operators to bring their units into compliance with the rule's substantive requirements, but does not otherwise amend the rule or otherwise impose new requirements on those units.
---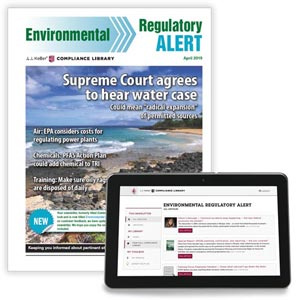 J. J. Keller's Environmental Alert: The Compliance Guide for Safety Professionals helps you stay on top of the latest environmental enforcement issues.
---
J. J. Keller's FREE Workplace SafetyClicks™ email newsletter brings quick-read workplace safety and compliance news right to your email box.