HSA Plan participants can now cover chronic condition care
Posted July 19, 2019
On July 17, the U.S. Department of the Treasury expanded preventive care benefits that may be provided by high deductible health plans (HDHPs) for a range of chronic conditions. Individuals covered by an HDHP generally may establish and deduct contributions to a health savings account (HSA). The expanded list of preventive care benefits provided by an HDHP covers medical care services and prescription drugs for certain chronic conditions. Any medical care previously recognized as preventive care for these rules is still treated as preventive care.
Preventive care generally does not include any service or benefit intended to treat an existing illness, injury, or condition. The cost barriers for care, however, have resulted in some individuals who are diagnosed with certain chronic conditions failing to seek or utilize effective and necessary care that would prevent exacerbation of the chronic condition. Failure to address these chronic conditions has been demonstrated to lead to consequences, such as amputation, blindness, heart attacks, and strokes that require considerably more extensive medical intervention.
In light of this, the Treasury determined that certain medical care services received, and items purchased, including prescription drugs, for certain chronic conditions should be classified as preventive care for someone with that chronic condition. These medical services and items are limited to those specified by the agency, and include, for example, beta blockers, blood pressure monitors, insulin, and statins.
To be included, the medical service or item, when prescribed for an individual with the related chronic condition, must have the following characteristics:
The service or item is low-cost;
There is medical evidence supporting high cost efficiency (a large expected impact) of preventing exacerbation of the chronic condition or the development of a secondary condition; and
There is a strong likelihood, documented by clinical evidence, that with respect to the class of individuals prescribed the item or service, the specific service or use of the item will prevent the exacerbation of the chronic condition or the development of a secondary condition that requires significantly higher cost treatments.
This isn't the end of it. The Treasury will continue to consider appropriate standards for differentiating between services and items that would be considered preventive care and those that would not. Employers with HDHPs and associated HSAs may want to inform their plan participants of this development.
This expansion is in response to the President's Executive Order on "Improving Price and Quality Transparency in American Healthcare to Put Patients First."
This article was written by Darlene M. Clabault, SHRM-CP, PHR, CLMS, of J. J. Keller & Associates, Inc.
---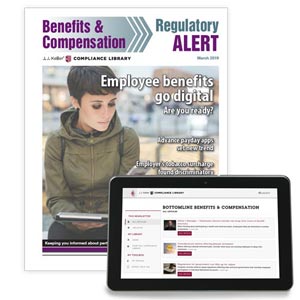 J. J. Keller's Benefits & Compensation Regulatory Alert is a monthly newsletter that addresses key issues relating to benefits and compensation programs.
---
J. J. Keller's FREE HR SafetyClicks™ email newsletter brings quick-read safety and compliance news right to your email box.