What does sex discrimination look like?
The #MeToo movement has focused a sharp lens on sexual harassment within the past year, particularly in the workplace. What the long-term effects of the movement remains to be seen.

Sex discrimination, however, can go beyond what people might think if they look through only the #MeToo lens. In just the last week or so, in fact, the Equal Employment Opportunity Commission (EEOC), which enforces the employment anti-discrimination laws, has taken a few employers to task regarding sex discrimination, providing us with a glimpse into what can constitute sex discrimination, and the potential consequences.
| Issue | Result |
| --- | --- |
| Supervisors and co-workers subjected an employee to unwelcome and offensive comments about his sexual orientation. | Employer had to pay the harassment victim $25,000; prohibit engaging in sexual harassment or retaliation in the future; and train its employees with respect to the requirements of Title VII and to report complaints of sexual harassment to the EEOC. |
| Numerous employees were routinely sexually harassed by coworkers and managers, including offensive sexual comments, groping, physical threats, and, in one instance, attempted forced oral sex with a management employee. | Employer was required to pay $975,000 in compensatory damages to 16 harassment victims; implement, distribute, and enforce tougher policies prohibiting sexual harassment and establish procedures for promptly investigating and addressing sexual harassment complaints; requiring the owner to be directly involved in preventing and correcting sexual harassment; provide sexual harassment training to employees; create and maintain documents regarding sexual harassment complaints; post notices at the facilities; and allow the EEOC to monitor the situation. |
| A company provided employees who were new fathers, less paid leave to bond with a newborn, or with a newly adopted or fostered child, than it provided new mothers. | The employer must pay a total of $1,100,000 to the class of male employees, administer parental leave and related return-to-work benefits in a manner that ensures equal benefits for male and female employees and utilizes sex-neutral criteria, requirements, and processes; provide training on unlawful sex discrimination; and allow monitoring by the EEOC. |
As illustrated with these cases, the resulting common denominators are often paying a hefty fine, changing policies/procedures, and providing training. Title VII of the Civil Rights Act does not specifically require training, but providing it can help avoid situations as those listed, and show a good faith effort toward establishing a workplace free of sex discrimination. Seems the EEOC is advocating, in a roundabout way, that you can train now, or you can train later. Later is much more expensive. The hit an employer might take in public relations can add to the price tag.

This article was written by Darlene M. Clabault, SHRM-CP, PHR, CLMS, of J. J. Keller & Associates, Inc. The content of these news items, in whole or in part, MAY NOT be copied into any other uses without consulting the originator of the content.
---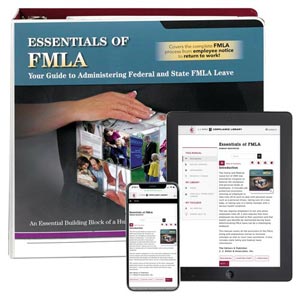 Learn more about products and services that provide you with confidential, consistent, high-quality leave management on our FMLA resource page.
---
J. J. Keller's FREE HRClicks™ email newsletter brings quick-read human resources-related news right to your email inbox.