Supervisor training can help avoid a PR nightmare
Posted July 5, 2018
An employee's son became gravely ill. When the employee called in as her son was in the hospital, her supervisor's response was less than cordial: If you don't come in, you will be seen as quitting. The supervisor went on to say "there is no reason you can't work and I will not tolerate drama. End of conversation. If you aren't there to work your shift tomorrow then I take that as you've quit."
The employee took her situation to the web waves and word got out as her post of the conversation went viral. The company's reputation took a hit.
After that, the employee also contacted the company's corporate office, which indicated that after an investigation, it was decided that the situation was handled incorrectly and the employee could take as much time off as needed, and that the supervisor had been terminated for not expressing the compassion the company valued.
Once verbalized, however, words can't be unsaid. The supervisor's words and actions represented the company, particularly for the duration of the conversation with the employee. And the text of that conversation lives on.
For all we know, the employee wasn't eligible for FMLA leave (didn't work for the company for one year, didn't work at least 1,250 hours in the 12 months before leave began, didn't work at a location with at least 50 company employees within 75 miles), but even if the FMLA wasn't involved, a little compassion can go a long way. The FMLA strives for a balance between work and personal demands. Many employers also do even without the FMLA.
While this situation might never evolve into a court case, the court of public opinion can be almost as daunting. To their credit, the company also went to social media to share their side. Regardless of their actions, however, a little training beforehand might have done wonders to help avoid this type of situation.
This article was written by Darlene M. Clabault, SHRM-CP, PHR, CLMS, of J. J. Keller & Associates, Inc.
---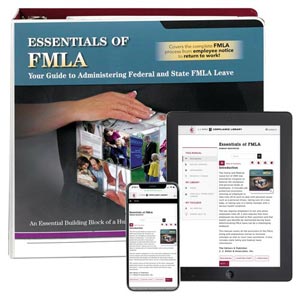 J. J. Keller's Essentials of FMLA manual helps HR pros understand and comply with the FMLA rules, control costs related to leave taken, and minimize the law's potential disruption to their organizations' operations.
---
J. J. Keller's FREE HRClicks™ email newsletter brings quick-read human resources-related news right to your email inbox.