Oregon adopts tough new pesticide protections
Posted July 12, 2018
Oregon OSHA announced it has adopted rules to increase protections against pesticide drift during outdoor spraying. Effective January 1, 2019, the rules exceed federal requirements.
While pesticide drift outside a treated area is already illegal, Oregon OSHA added safeguards for workers and their families who rely on farm housing. The agency says the rules are part of a broader and ongoing effort to reduce incidents of unsafe pesticide exposure among farm workers and pesticide handlers.
The Oregon OSHA rules:
Expand a protective zone
Extend the evacuation period
Require doors, windows, and air intakes to be closed during pesticide applications; and
Require storage for shoes and boots to prevent tracking of pesticides into worker housing.
The Oregon OSHA rules address what the state sees as a weakness with federal EPA's Application Exclusion Zone (AEZ), the area next to, but outside of, the pesticide-treated area. The AEZ provides an added level of protection beyond the safeguards enforced in the treated area itself. The AEZ moves along with spray equipment and allows only appropriately trained and equipped pesticide handlers within it.
Oregon OSHA points out that EPA's rule was designed to protect workers in the field, not for people in worker housing and other farm structures. Also, the EPA rule allows people to return to the AEZ immediately after the spraying equipment has passed by.
On the other hand, Oregon OSHA's rules require a 100-foot AEZ when the pesticide applicator is not required to use a respirator. Also, people must stay out of the zone for an additional 15 minutes. Oregon OSHA says this is to allow any illegal pesticide drift to settle.
Other aspects of Oregon OSHA's rules that exceed EPA's rules include:
For pesticides that require applicators to use respirators, the AEZ expands to 150 feet – 50 feet more than the EPA rule. People must stay out of the zone for an additional 15 minutes. There is no option to stay indoors.
For all pesticide applications, doors and windows must be shut, and air intakes must be turned off before people evacuate or remain inside an enclosed agricultural structure. During evacuation, the EPA rule does not include such requirements.
Closeable storage areas for shoes or boots must be provided to prevent tracking of pesticides into worker housing. The EPA rule includes no such requirements.
Employers must adhere to notification and instruction requirements, including informing people of the start and stop times of pesticide spray, and providing them with instructions to close windows, doors, and air intakes. The EPA rule includes no such provisions.
Oregon OSHA says its new rules complement and complete EPA's revisions to the Worker Protection Standard. These revisions affected areas such as worker notifications, training frequency, and trainer qualifications.
---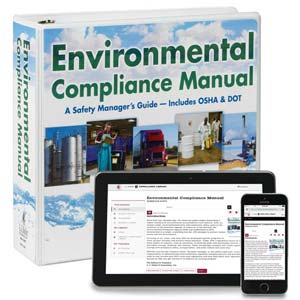 J. J. Keller's Environmental Compliance Manual is packed with easy-to-understand information on regulations, environmental issues, and compliance.
---
J. J. Keller's FREE Workplace SafetyClicks™ email newsletter brings quick-read workplace safety and compliance news right to your email box.