EPA reassures small manufacturers of glider trucks, kits
Posted July 16, 2018
A recent EPA memo announced a "no action assurance" regarding small manufacturers of glider vehicles. Specifically, the memo lifts a limit placed on the number of glider vehicles a small manufacturer can produce.
Gliders and glider kits are a special category of heavy-duty trucks that have older engines or drivelines in newer cabs and frames.
In August 2017, EPA received a request from a glider kit company owner asking the Agency to reconsider the requirements for gliders under the final rule titled Greenhouse Gas Emissions and Fuel Efficiency Standards for Medium- and Heavy-Duty Engines and Vehicles – Phase 2 (HD Phase 2 Rule). The final rule specified that glider vehicles were "new motor vehicles" and glider engines were "new motor vehicle engines." The rule allowed small manufacturers to manufacture glider vehicles in 2017 in the amount of the greatest number produced in any one year during the period of 2010-2014. But after January 1, 2018, these manufacturers were limited to 300 gliders or fewer per year, unless they used engines that complied with the emission standards applicable to the model year in which the glider vehicle was manufactured.
In response, EPA published a November 2017 proposed rule to repeal the emissions standards and production limits as they apply to glider vehicles, glider engines, and glider kits.
EPA says that it is taking longer to complete the rulemaking than it anticipated. In the meantime, small manufacturers who counted on the rule being finalized have reached their calendar year 2018 annual allotment under the HD Phase 2 Rule and must stop production of glider vehicles for the rest of the year. This, EPA predicts, will result in the loss of jobs and could threaten the viability of the manufacturers.
EPA intends to move as quickly as possible to undertake a rulemaking that will extend the compliance date for small manufacturers to December 31, 2019.
The no action assurance means that EPA will use its enforcement discretion to allow these small manufacturers to manufacture or supply glider vehicles or kits to 2017 levels. The no action assurance will remain in effect until July 6, 2019, or the effective date of a final rule extending the compliance date, whichever comes first.
According to EPA, this no action assurance is in the public interest to avoid profound disruptions to small businesses while the Agency completes its reconsideration of the HD Phase 2 Rule. The EPA reserves its right to revoke or modify the no action assurance.
---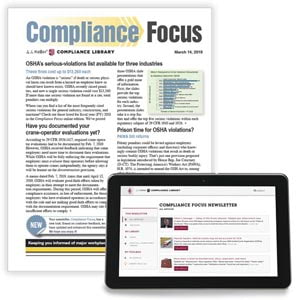 J. J. Keller's Compliance Focus helps you stay on top of critical regulatory developments from: DOT, OSHA, EPA, DOL, MSHA, EEOC, DHS and other agencies.
---
J. J. Keller's FREE Workplace SafetyClicks™ email newsletter brings quick-read workplace safety and compliance news right to your email box.