House preparing for vote on DOT budget bill this week
Posted June 19, 2019
The U.S. House of Representatives is planning a vote this week on the fiscal year 2020 Transportation, Housing and Urban Development (THUD) appropriations bill, which will fund the Federal Motor Carrier Safety Administration (FMCSA) through September next year.
The House bill is just the first step in the budget approval process. It will have to be reconciled with the Senate version before signing by the president into law, so the current version will likely undergo changes before the final version is announced.
The bill fully funds the requested budget for the FMCSA and adds an additional $1 million for scholarships for veterans who want to become Class A drivers. It also permanently exempts livestock and insect haulers from the electronic logging device (ELD) mandate, a provision with bipartisan support.
Objections
Republicans on the House Appropriations Committee object to several provisions in the bill, however, and proposed amendments last week to:
Strike a provision requiring the public release of Compliance, Safety, and Accountability (CSA) scores;
Strike a provision that would restrict the FMCSA's ability to change the 30-minute break rule;
Strike a restriction on the FMCSA being able to preempt state meal and rest-break rules; and
Prohibit the FMCSA from completing a rule requiring large trucks to be equipped with speed limiters.
Other requests
In a report accompanying the THUD bill, the budget-writing committee called on the FMCSA to:
Consider several factors when deciding on new exemptions to the 30-minute rest-break rule, including the safety implications "of making routine stops during the day, of drivers remaining physically active during non-driving periods, and of adding additional vehicle miles operated to the roads."
Submit a long-overdue report on transponder-based weigh-station screening tools and the effects of replacing that technology with license-plate readers.
Submit "a full report and timeline" for completing overdue rules that Congress asked for in 2012 and 2015 as part of the FAST Act and MAP-21.
---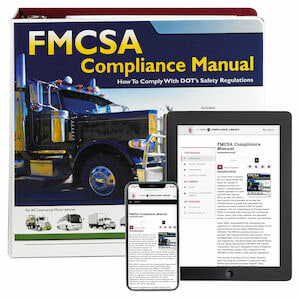 J. J. Keller's FMCSA Compliance Manual helps companies operating commercial motor vehicles (CMVs) comply with DOT regulations.
---
J. J. Keller's FREE Transportation SafetyClicks™ email newsletter brings quick-read safety and compliance news right to your email box.