Wellness, leave offerings on the rise
Posted June 25, 2018
More employers are increasing wellness and leave benefits and the makeup of those benefits is changing, according to the 2018 Employee Benefits Survey from the Society for Human Resource Management (SHRM).
The survey, released June 19, found that 34 percent of organizations increased their overall benefits in the past 12 months.
In addition to reacting to the war for talent, employers are also striving to meet the needs of multiple generations in the workplace, and are changing their benefits to match.
The most commonly cited reason for a benefits increase was retention (noted by 72 percent of those responding to the survey) and recruiting (noted by 58 percent). Health and wellness benefits were most likely to increase; 51 percent of employers increased health benefits, and 44 percent increased wellness benefits.
The availability of multiple types of parental leave increased between 2016 and 2018:
Paid maternity leave, up from 26 to 35 percent
Paid paternity leave, up from 21 to 29 percent
Adoption, up from 20 to 28 percent
Foster child, up from 13 to 21 percent
Surrogacy, up from 6 to 12 percent
The use of certain workplace wellness benefits also saw an uptick. Between 2017 and 2018, substantial wellness benefits increases were seen in the use of:
Standing desks (up 9 percent from 44 to 53 percent in 2018),
CPR/first aid training (up 7 percent, to 54 percent in 2018),
Company fitness competitions and challenges (up 10 percent, to 28 percent in 2018), and
Onsite stress management programs (up 5 percent, to 12 percent in 2018).
The survey found that health care coverage for full-time employees is offered by 99 percent of employers, and that over the past five years coverage for the following groups increased substantially:
Part-time employees, up 10 percent to 37 percent,
Opposite-sex spouses, up 23 percentage points to 94 percent,
Same-sex spouses up 39 percentage points to 85 percent,
Opposite-sex domestic partners, up 25 percentage points to 55 percent,
Same-sex domestic partners, up 20 percentage points to 55 percent,
Foster children, up 32 percentage points to 59 percent,
Nondependent children, up 29 percentage points to 39 percent, and
Dependent grandchildren, up 23 percent to 49 percent.
This article was written by Terri Dougherty, SHRM-CP, PHR, of J. J. Keller & Associates, Inc.
---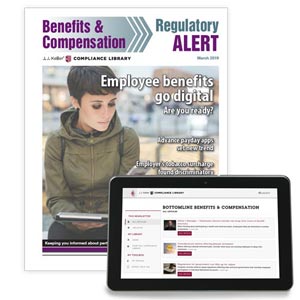 J. J. Keller's BottomLine Benefits & Compensation is an 8-page, monthly newsletter that addresses key issues relating to benefits and compensation programs.
---
J. J. Keller's FREE HRClicks™ email newsletter brings quick-read human resources-related news right to your email inbox.