American Society of Safety Engineers closer to name change
Posted June 23, 2017
During Safety 2017, The American Society of Safety Engineer's (ASSE) conference and exposition in Denver, Colorado, the Society announced it was one step closer to changing its name.
Delegates across the ASSE chapters held a vote on June 19, approving the proposed name change. The proposal now goes out to all members for a vote. If passed, ASSE will become the American Society of Safety Professionals in 2018. Delegates did not vote to adopt a new logo, however. The "E" in the logo would simply change to a "P."
ASSE says the name change will better reflect its diverse membership.
"Our members decide who we are and what we're all about, and it's always been that way," said ASSE President Tom Cecich, CSP, CIH. "It seems that our delegates like the new name and feel a connection to our current logo. It's an objective process that has made us a strong organization for many years now."
The Society has been researching the name change for over a year with members, customers, and stakeholders. ASSE also believes that changing from "engineers" to "professionals" will eliminate a certain amount of confusion over who can join the organization.
---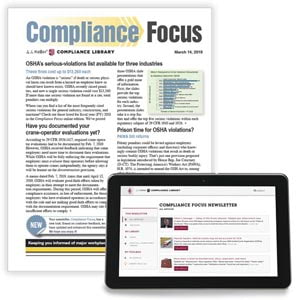 J. J. Keller's Compliance Focus helps you stay on top of critical regulatory developments from: DOT, OSHA, EPA, DOL, MSHA, EEOC, DHS and other agencies.
---
J. J. Keller's FREE Workplace SafetyClicks™ email newsletter brings quick-read workplace safety and compliance news right to your email box.