Oregon OSHA extends COVID-19 rule
Posted May 7, 2021
Effective May 4, Oregon OSHA has adopted a rule extending its COVID-19 workplace protections. While the final rule broadly reflects the temporary rule, it also includes some significant changes:
Reducing the number of industry-specific appendices and limiting such requirements to those involving worker protection.
Reducing the K-12 schools appendix and removing all references to cohorts and square footage limitations, as well as physical distancing between students.
Requiring employers to consider alternatives to transporting multiple people in a single vehicle and providing other guidance about reducing risk while sharing vehicles. The rule does not, however, require using multiple vehicles to transport multiple employees.
Requiring employers with more than 10 employees – and that have existing ventilation systems – to state in writing that, to the best of their knowledge, they are running their systems in line with requirements. The final rule does not require the purchase or installation of new ventilation systems.
Reducing required sanitation measures to reflect the most current Centers for Disease Control and Prevention (CDC) guidance.
Requiring employers to provide written notification to employees of their rights to return to work when employees must quarantine.
Requiring healthcare employers to provide respirators to employees working with known or suspected COVID-19-positive patients, unless such respirators are unavailable.
The final rule also makes clear that the risk assessment, infection control plan, and infection control training completed under the temporary rule do not need to be repeated as a result of the adoption of the final rule.
Oregon OSHA says the rule will be repealed when it is no longer needed to address the COVID-19 pandemic in the workplace.
This article was written by Rachel Krubsack of J. J. Keller & Associates, Inc.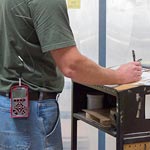 Looking for more on workplace safety?
Get the information and products you need to stay on top of industry changes and comply with regs.