Pool chemical injuries lead to over 4,500 ER visits each year
Posted May 21, 2019
Pool chemical injuries led to over 4,500 emergency room (ER) visits annually during 2008-2017, according to a report published by the Centers for Disease Control and Prevention (CDC). The top diagnosis was poisoning due to breathing in chemical fumes, vapors, or gases—for example, when opening chlorine containers.
Pool chemicals, such as chlorine and bromine, protect swimmers from the spread of germs and prevent outbreaks. Other chemicals help with the disinfection process, improve water quality, stop corrosion and scaling of equipment, and protect against algal growth. However, these chemicals can cause injuries when mixed together or when appropriate personal protective equipment is not used when handling them.
The CDC notes that training plays an important role in preventing injuries:
Read and follow directions on pool chemical product labels.
Wear safety equipment, such as respirators or goggles, when handling pool chemicals. Check product labels for directions on what to wear.
Keep pool chemicals out of reach of children, teens, and animals (including pets).
Never mix different pool chemicals with each other. It is particularly dangerous to mix chlorine and acid.
If you operate a public pool, complete the operator training that includes pool chemical safety. Conduct pool chemical safety training for all staff that handle chemicals.
---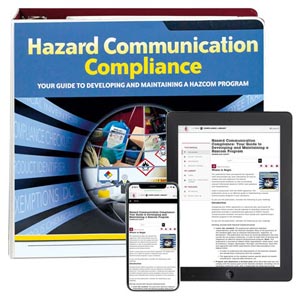 J. J. Keller's Hazard Communication Compliance Manual provides comprehensive, easy-to-understand guidance on the OSHA Hazard Communication Standard (HazCom) and the Globally Harmonized System of Classification and Labeling of Chemicals (GHS).
---
J. J. Keller's FREE Workplace SafetyClicks™ email newsletter brings quick-read safety and compliance news right to your email box.
Sign up to receive Workplace SafetyClicks™.